06/30/2008
KONG, EL INDOMABLE, Y LA MUJER MARAVILLA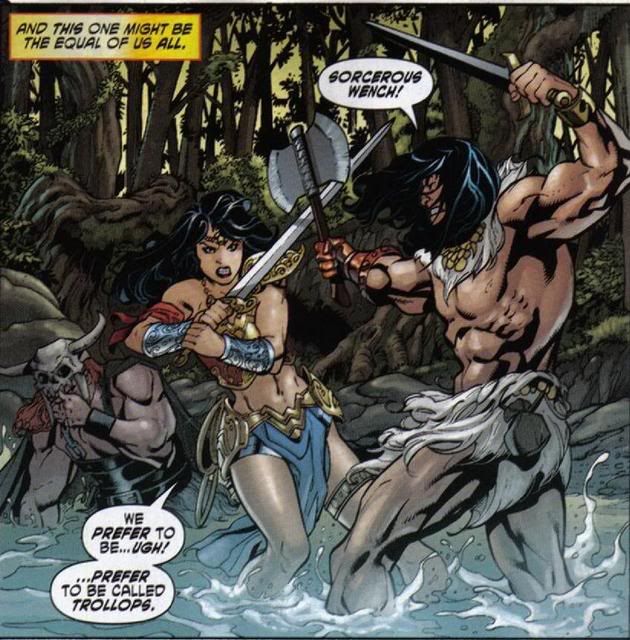 (En la imagen, Diana contra La Garra y detrás Beowulf)
Wizard Universe en verdad no dice mucho de la Mujer Maravilla en la pasada Wizard World, pero cuando dice las cosas, son en serio. Esta vez agrega un dato al resto de información que ya sabíamos, que después de la historia con Beowulf llegará la historia de Genocidio y nos comentan el nombre de un nuevo personaje: KONG, EL INDOMABLE.
Pero la pregunta es... ¿POr qué dicen que el personaje es nuevo? Si ya había aparecido antes en las historias del Universo DC.
Kong es descendiente directo de Anthro, el que aparece en las páginas de Crisis Final #1. Al parecer todo se va hilando dentro de las páginas de LA MUJER MARAVILLA.
Wonder Woman
Simone said that after the current barbarian arc, there will be a huge, epic story featuring Wonder's Woman's Doomsday. She faces a new villain called Genocide created from the mad scientists who obtained materials from the sites of genocides from the past 100 years. A new character named Kong the Untamed will appear.
Thanks Wizard Universe for the heads-up. But our doubt is... Why do they call him a new character when he appeared first in the 1970's. Kong is actually a direct descendent of Anthro who lately appeared in Final Crisis #1. It seems like it all comes together in the pages of WONDER WOMAN.